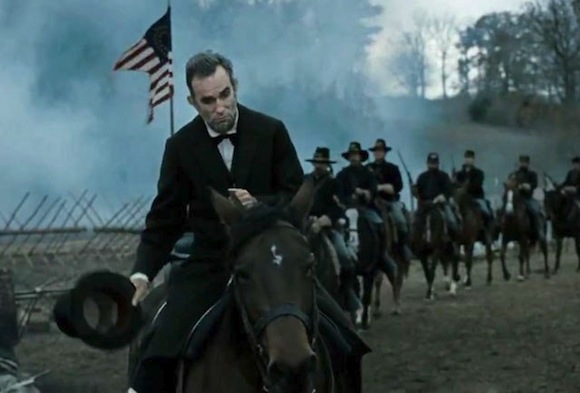 Pam and I saw "Lincoln" today. That makes two Lincoln movies this year, though this, if I may make a wild guess, was probably more historically accurate than "Abraham Lincoln: Vampire Hunter."
Some thoughts.
Daniel Day Lewis–great choice! Looked so much like Lincoln.
Interesting, taking just a sliver or his presidency to cover in the movie. Nothing grand or sweeping.
I've not read about this piece of history–the passage of the 13th amendment. I found the movie fascinating, but I can't speak to its accuracy. I'm assuming Spielberg stayed true to the actual story. Haven't heard critics saying otherwise.
Sally Field was superb. So was Tommy Lee Jones. And David Straithairn. In fact, there was not a bad performance.
The beginning battle scene was fascinating–nasty, chaotic, probably a lot like the real thing. I'd love to see Spielberg direct a Civil War battle movie.
I liked the lumbering gait Lewis gave to Lincoln. There was a scene toward the end, where he walks away from the camera, where this was especially pronounced.
Loved the stories Lincoln told. Especially the one about George Washington's picture in the bathroom. And the "true north" story.
It was a very human–and believable–Lincoln. Sitting in a chair with his socked feet sticking up. Crawling around on the floor to stir up a fire. Sitting in a chair motionless, deep in thought. His unruly hair. The shouting match with Mary.
My goodness, Congressmen spoke nasty to each other back then!
The legal and pragmatic realities, entanglements, and dilemmas that Lincoln faced were daunting, and explained pretty well. Like the various issues surrounding the Emancipation Proclamation as a purely wartime measure, and what would happen to slaves once peace returned. Lincoln had some truly enormous issues to wrestle with.
I loved the opening scene with the two black soldiers, and how they worked in the Gettysburg Address. Nice touch.
I really liked the scene sitting with Grant before the surrender, and then the Appamatox Courthouse scene.
An interesting surprise with Thaddeus Stevens at the end.
I totally did not recognize James Spader in his role. Gloria Reuben, either.
This was a thinking person's movie. Very little action. The plot basically involved political wranglings and arm-twisting, and discussions of highly important issues wrapped in dilemmas. I highly recommend the movie, and won't be surprised if some actors, starting with Day-Lewis, win Oscars.