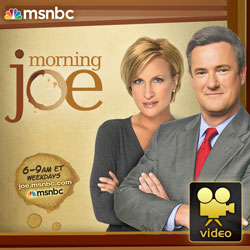 MSNBC is back on XM Satellite Radio, finally! I used to listen to it all the time going to work, when Don Imus hosted the morning show. Everybody who was anybody in politics clamored to be on his show. He made them put away the talking points and give honest opinions, and they complied (or were blacklisted by Imus). I loved it. It was the most enlightening, and fun, political show on TV or radio (though Imus constantly strayed over "the line").
But in 2006, XM Radio dropped MSNBC from the line-up. As a result, for the past four years I've been listening to ESPN's Mike&Mike show on my way to work–and, in fact, have become a huge, huge fan. Even prior to 2006, I frequently listened to it if Imus didn't interest me.
Sure, I could still listen to CNN or FoxNews, both of which are on XM Radio. But the CNN morning show is terribly boring, with no star-power and generic hosts. And the Fox&Friends show is intolerably partisan, one of my all-time least-favorite shows, one for which there is a special place in Hell far from the drinking fountain.
After the Great Imus Fall in 2007, MSNBC replaced Imus with Joe Scarborough. The show started slowly, but now attracts an impressive array of guests of all stripes, much like the old Imus program did (but without the juvenile elements). All the political power players from both parties eagerly agree to be guests. The political wattage is astounding.
Scarborough is a conservative Republican, but he's a very fair host. When people come on with opposing views, he doesn't feel like he must win an argument like Sean Hannity and other purely partisan pundits do (if they even bother to bring on guests with opposing views). Nor will he let a partisan come on and rant unchallenged (like the Fox shows allow Ann Coulter and Michelle Malkin and others to do). Rather, Joe presides over a discussion which can be extremely enlightening. You learn something, without the shouting (though Joe and Lawrence O'Donnell tend to mix it up).
It's actually somewhat of an ensemble news show, with regulars like Mika Brzezinski (who is basically a co-host), Mike Barnacle, Patrick Buchanan, and Willie Geist. Morning Joe is in the tradition of the This Week with David Brinkley. Brinkley always treated guests with respect, and when they left the set and the show moved on, he refused to talk about them; he considered it rude, unclassy. Of course, Brinkley was a journalist by profession, whereas Scarborough is a politician-turned-TV-host. Brinkley rarely showed his opinions, even during the pioneering roundtable at the end of each program (he left that to Sam Donaldson and George Will). Joe has no such conniptions, but he holds back, letting us learn from his guests rather than feel like he must pummel views which don't agree with his own.
Anyway, this morning I listened to Morning Joe on the way to work. What a pleasure! I know I'll be switching back and forth between Morning Joe and Mike&Mike. But at least now I've got a valid news option.