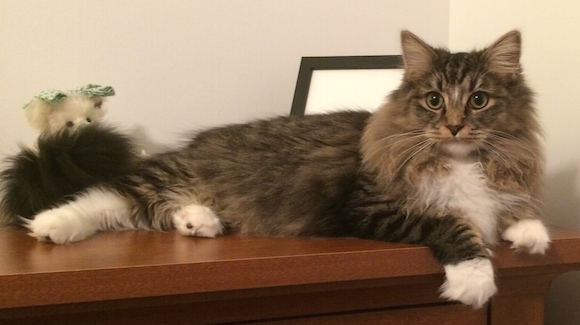 I began the day by stepping, barefooted, into soft cat poo placed strategically just outside our bedroom door. It was no doubt Murphy, though I couldn't prove it in a court of law, especially now that I have decontaminated the crime scene (and my foot). Our long-haired Murphy seems to have difficulty cleaning his nether regions. Even my low-powered olfactory system goes on alert when he enters the room.
So, I did a relevant Google search, and came up with numerous forums in which people discuss this malady, which appears to be quite common. I learned a great deal, including the usage of technical terms like "crusties" and "dingleberries." People offered a variety of solutions, which included using such items as baby wipes, rounded scissors, Vaseline (you heard me), high-protein food, and fine-mist spray bottles. One person suggested, "Fire–it's the only solution."
Stinky Boy, sensing that evil machinations were afoot regarding his tender parts, decided to jump on me and play Lovable Lap Kitty. After cleaning himself everywhere but "down there," he went to sleep for 30 minutes, sprawled open-faced. I can't resist lovable, regardless of the smell. However, this afternoon I plan to run my recliner through the car wash.