In doing some research last weekend for a book I'm writing,  I came across a note in our denominational magazine about an award one of my articles won back in 1987. The article, "Notes on an Abortion Forum," took second place in the General Article category of the Evangelical Press Association's annual awards contest. The General Article category typically had more entries than any other category, usually major feature articles. First place was a tie between Campus Life and Leadership Journal, and third place went to Moody Monthly, so I felt in good company.
"Notes on an Abortion Forum," a lengthy article, remains one of the best articles I've ever written. In the 25 years since, I'd like to think I've written many articles that are better. But only a couple come to mind, and I'm not sure they're better. I won two more awards from the EPA the following year, but those pieces pale in comparison to "Abortion Forum."
I'd forgotten about the judges' comments on "Abortion Forum." Those comments were published in the magazine, in that note I ran across last weekend. In a totally self-serving tribute to myself, a congratulatory pat on my own back, here are those comments:
"It is even-handed, calm, and reasoned on a subject that makes many of us–and, I suspect, many of the author's United Brethren readers–over-emotional and even irrational. The writer's crisp, clean writing style presents the story of this abortion forum with the same dramatic tension that must have been in the air that night–short sentences, breath-catching silences, and pauses. I felt as if I were there. Given the topic and the denomination, I was, frankly, expecting the narrative to slide into a strong anti-abortion tirade at some point. That it never did was a pleasant surprise. The author rightly sensed that not every anti-abortion argument has to be shrill and vituperative. The writer's skillful blend of the meeting's highlights and his own private thoughts make it just as strong and persuasive."
I received the award at a banquet in Washington DC. Receiving the award in front of my peers was fun. But my enduring memory of that night is the keynote message from Chuck Colson. One statement has stayed with me, and I've applied it many times to people who don't share my priorities.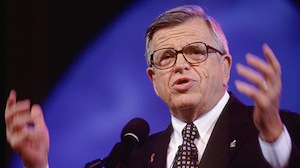 Colson said he was often criticized for not getting strongly involved in fighting abortion. He agreed that it was a terrible evil. However, he said, God gives different people different agendas. The agenda he'd been given was prison ministry, and he had thrown himself fully into that agenda. He applauded those who crusaded against abortion. But, he said, "That's not the agenda God gave me."
I found that very insightful. I took home an award that night, one I'm proud of. I re-read "Notes on an Abortion Forum" every few years, when I come across it; yeah, it's good, very good. But Chuck Colson's words stuck to me at a deep level, and often remind me to ask, "What is God telling me to do? What has he made me passionate about? What is my God-given agenda?"