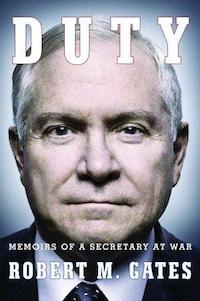 I just finished a remarkable book: "Duty," by Bob Gates, the Secretary of Defense 2006-2011. I recommend it highly. It's the best book I've read this year (okay, it's only the 5th book, but still).
I mostly avoid political memoirs. They tend to be more about burnishing legacies than about history. I've never read a presidential memoir, for instance. But I've always considered Gates to be a man of integrity, above politics—as he showed in working for every president from Nixon on, with the exception of Clinton.
I felt Gates would tell it straight…and I wasn't disappointed. He writes very frankly about what he experienced and observed, and frequently criticizes his own actions and decisions. This is not a political book in any way.
For books like this, publishers release excerpts that they feel will do the most to get people talking. That was done with reckless abandon for "Duty." In particular, they released statements Gates made criticizing President Obama and Joe Biden. But those don't do the book justice.
Gates makes very clear that he greatly admired both Presidents Bush and Obama. He cites instances where both men ignored the cries of their political advisors and base constituencies, and made the right decisions. He reserved his most critical comments for Congress, for the Pentagon bureaucracy, and for the pols within each administration.
Gates offers wonderfully honest assessments of all the major players he worked with. He had superb relationships with both secretaries of state, Condi Rice and Hillary Clinton, and usually found himself on the same page as them. He personally liked both vice presidents, but disagreed with them a lot (especially Biden). He detested being grilled by grandstanding Congresspersons in public hearings.
But his greatest respect goes to the American troops. I got choked up several times as he wrote about his experiences among the troops. And his words in the final chapter about war—and America's growing tendency to use military force as a first resort—should be heeded by everybody.
Leave a comment