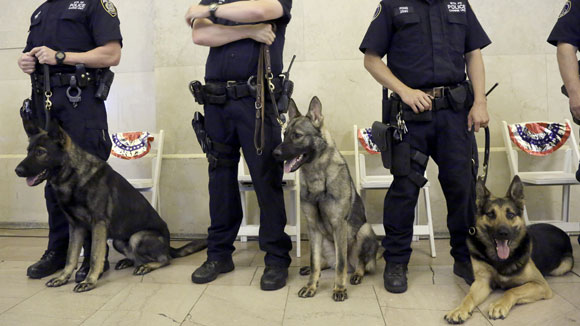 Some drug-sniffing dogs need to be upgraded, according to an interesting little piece in BusinessWeek.
Dogs have been trained to detect marijuana, which creates "probable cause" for police searches. But now, several states have legalized possessing small amounts of marijuana (normally an ounce). The problem: dogs don't differentiate between legal and illegal amounts.
Dogs give the same response, regardless of the drug they detect. "We can't train our dogs to bark if it's cocaine, roll over if it's marijuana, scratch if it's methamphetamine," said a Colorado policeman.
Imagine this scenario. A dog indicates that a car contains drugs, and a search reveals huge amounts of cocaine and other drugs. BUT, there's also an ounce of marijuana. In court, lawyers argue that the dog actually detected the marijuana–which was purely legal–and therefore it was an illegal search. Anything ELSE found during the search should be ruled as inadmissible.
As a result, some police departments in Washington State are sending their dogs to "pot desensitization training," and not training new dogs to detect marijuana.
Leave a comment