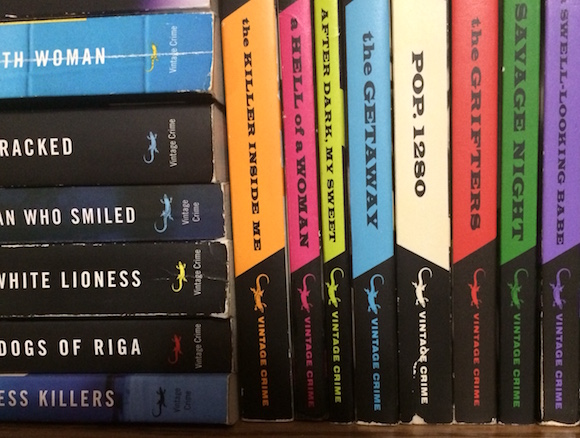 I finished my 200th book in the "Black Lizard" imprint from Vintage Books. It was Dashiell Hammett's "Nightmare Town," a collection of short stories. It's fitting, since the first Black Lizard book I read was Hammett's "Red Harvest," starring the semi-anonymous Continental Operative.
The Black Lizard imprint has gobs of great authors–mystery masters–going back to the early 1900s. I've now read all of Hammett's books, all 9 Raymond Chandler books (starring the great Philip Marlowe), 9 Gregory McDonald books (the Fletch and Flynn series), 12 Ross MacDonald books (with Lew Archer), 15 Henning Mankell books (including the entire Kurt Wallander series), plus a number of books by old-time writers David Goodis, Jim Thompson, James Cain, Harry Whittington, Charles Willeford, Dan Marlowe, Patricia Highsmith, and Eric Ambler.
But Black Lizard also has many superb writers–like Don Winslow, Joe R. Lansdale (the Hap & Leonard series), Jeff Lindsey (Dexter), Joe Nesbo (Harry Hole), Steig Larsen (the Dragon Tattoo trilogy), Hakan Nesser, Andrew Vachss (Burke), and more.
I've got a shelf filled with Black Lizard books I haven't read yet. Seldom am I disappointed, especially with the older masters.
Leave a comment