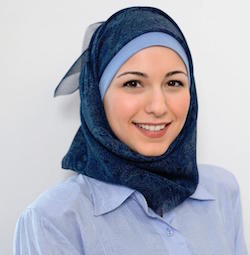 Pam and I ate at Five Guys (Times Corners) on Saturday. As we ate, a young woman–late 20s, I figured–came in wearing a hijab and what I will describe, in no doubt unlearned lingo, as Middle Eastern attire. As she picked up her order, one of the employees, a young black fellow, engaged her in brief conversation. She responded with a big smile and abundant personality.
As she ate, I kept glancing her way. She was just an ordinary young woman eating a cheeseburger and fries while reading a book. Yet she also represented the fears and hatred of so many Americans. I considered going over and asking her if people in Fort Wayne ever gave her a hard time about being Muslim, but I didn't. I assume she endures some of that, like derogatory remarks thrown her way from passing cars.
Another thing occurred to me. Everybody in that restaurant knew she was (most likely) a Muslim. Nobody knew I was a Christian.
As the woman finished her meal and headed for the door, the young black man behind the counter called out, "Thanks for coming, ma'am." He didn't say that to anyone else–just her. I'm going to guess that he was trying, in a small way, to compensate for the attitude of so much of society. Good for him. We should all think that way.
Leave a comment