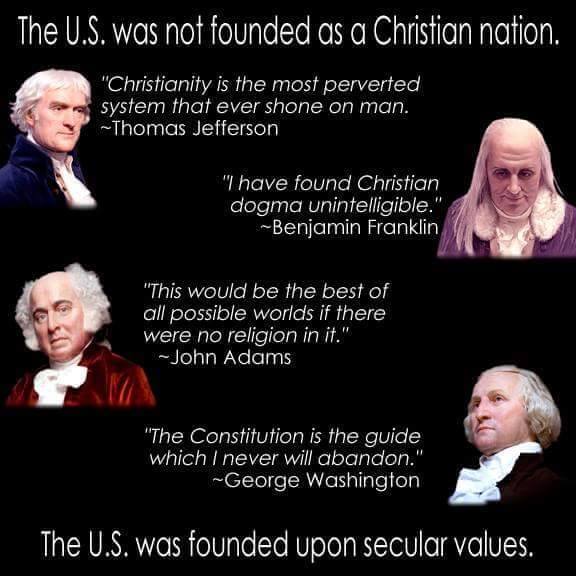 I participate in a private Facebook forum which includes a fellow who really really dislikes Christians. He regularly posts stuff he finds on the internet which he thinks makes Christians look bad.
The other day, he posted the internet graphic above, which consists of supposed quotes by Founding Fathers. It includes this quote from John Adams:
"This would be the best of all possible worlds, if there were no religion at all."
John Adams did, indeed, write those very words. It was in a letter to Thomas Jefferson. But here's the quote in its context:
"Twenty times in the course of my late reading have I been on the point of breaking out, 'This would be the best of all possible worlds, if there were no religion at all!!!' But in this exclamation I would have been as fanatical as Bryant or Cleverly. Without religion, this world would be something not fit to be mentioned in polite company."
I've seen some of my Facebook friends–white evangelical Christians, primarily–likewise post stuff they find on the internet without checking its veracity. Sometimes what they pass along is merely untrue. Other times it is racist or hateful idiocy, far from the spirit of Christ.
I've come to detest these internet graphics (especially the ones which tell us to "share if you agree"). I much prefer that people take the time to write out their own thoughts, and let people react to them. It seems that people have lost the ability to put together their own ideas in intelligible sentences. Instead, they scour the internet for junk that affirms their views, and then "share" it with no more personal comment than "This is good."
Come on, people, think for yourself. Put some words together out of your own brain. If you're my friend, Facebook or otherwise, I want to know YOUR thoughts, not the thoughts of some anonymous person who knows how to use Photoshop.
Leave a comment