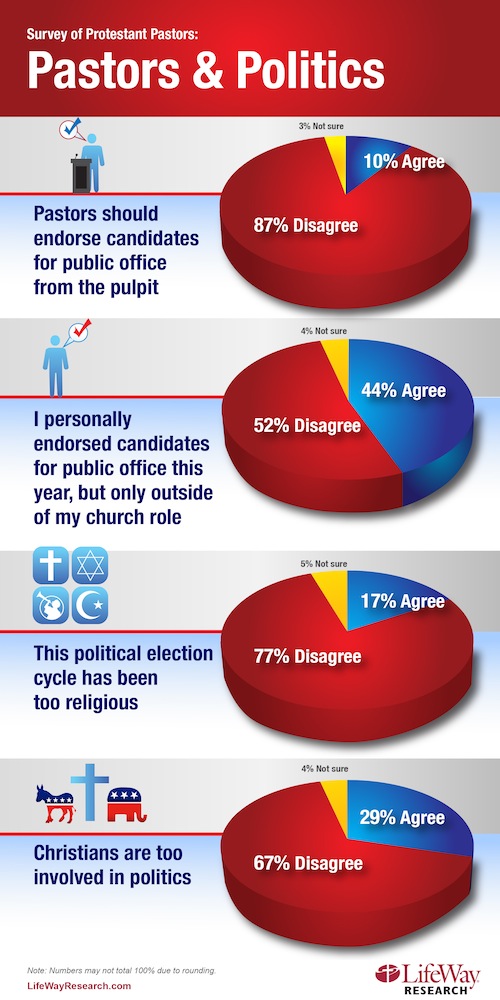 Since I work around ministers all the time, I found this interesting. Ed Stetzer, from LifeWay Research, polled 1000 Protestant pastors. He found:
90% believe they should not endorse political candidates from the pulpit (it was 85% in a similar poll in 2010).
Among pastors who call themselves Democrats, 98% believe political endorsements from the pulpit, compared to 90% of independents and 82% of Republicans. So Republicans are most in favor of using the pulpit to endorse politicians.
44% of pastors personally endorsed candidates outside of their church role. The percentage was higher among pastors of very small churches (56%), and among pastors in small cities (49%).
54% of self-described Democrats endorsed candidates outside of their church role, compared to 51% of Republicans and 34% of Independents.
An amendment to the IRS tax code in 1954 prohibits tax-exempt organizations, such as churches, from endorsing political candidates.
Stetzer writes on his blog:
In case you are wondering, my view is simple: Pastors should preach something more important than politics– they should preach Christ. They should preach Scripture. When they preach Scripture, they will indeed address issues that the world sees as political, but they distract from their message and mission when they start using the church to endorse canididates.

An old saying explains, "When you mix politics and religion, you get politics." When it comes to endorsing candidates, I believe that statement applies–it hurts the mission of the church.