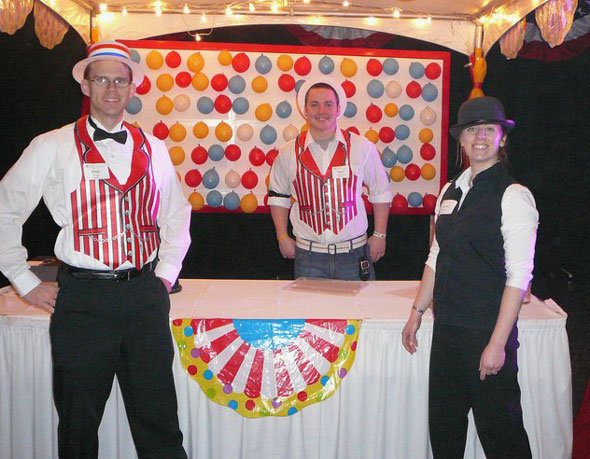 Last Saturday night, Feb 26, Pam and I participated in "The Brain Game," a big trivia contest which serves as a fundraiser for the local Fort Wayne Center for Learning. Pam's firm, Christian Souers LLC, bought a table for ten, which got us entered.
They used a street carnival theme this year, and it worked well. Wander around and get hot pretzels, popcorn, peanuts, cotton candy, and even Eskimo pies–all for free (no doubt gift-in-kind donations from sponsors). The meal was a simple (but bountiful) hamburgers, hotdogs, chili, fries, onion rings, and slaw. We got serenaded by a wandering barbershop quartet.
Throughout the night, they interspersed a lot of other fun things–a unicyclist, juggler, dance group, ballet trio, and other things. This is, hands-down, the most fun you'll ever have at a fundraiser.
Last year, I was on the four-person team that almost–ALMOST–won our 8-team round and the right to proceed to the finals. We came from behind to take the lead in the ten-question heat, but lost in overtime on about question 13 or 14. Bummer.
This year, they did it differently. The whole table of ten participated in the opening round, which went for 50 questions. There were 43 teams, and all competed against each other at the same time. The others gave me the clicker. The multiple-choice question would appear on the screen, and we had 15 seconds to punch in an answer. The top 6 teams would advance to the finals. They would be joined by the team voted as having the best outfits, and by the team that raised the most money for the Fort Wayne Center for Learning.
I thought we did pretty well.
We guessed right that Denmark had the world's highest per-capita candy consumption. We knew that a giraffe's tongue is black, and that Butler is in the Horizon conference. Pam knew that Obama went to Harvard. We knew there were no purple M&Ms. I knew that Congo was the only one of the four African countries listed–the others being Niger, Chad, and Burkina Fasao–that wasn't landlocked.
Luke's daughter Jaclyn, our one teenage member, got questions from Harry Potter and Hannah Montana. Jason Wilson knew that "Please Please Me" was the first song the Beatles released in America (most people picked "I Wanna Hold Your Hand"), and he knew that Ozzie Osborne's first name was John. He also knew his Shakespeare–that Brutus committed suicide at the end of the play, and that a Shakespearean sonnet has 14 lines (I, a writer, didn't know that).
After 25 questions, we were in 9th place. I thought we would be higher than that, but alas, the competition was stiff. To reach the finals, we had to be in the top 6. So for the second 25, we had to hunker down and focus.
We did well, nailing some difficult questions, but missed a couple we should have gotten (I thought I knew most of the world's capital cities, but I didn't know that Canberra was the capital of Australia). Like nearly everyone else, we didn't realize that potatoes were introduced to North America from Peru (we guessed Poland; Ireland was way too obvious). The last question asked for the definition of "scholio," from which we get "school." I had a feeling that it was "leisure," but we went with something else.
We moved up…one spot. To 8th place. Doggone. Maybe "leisure" would have moved us up to 7th.
The finals had three radiology teams–two from Fort Wayne Radiology, and one from Summit Radiology. Can you believe that the correct answer to the final question was "MRI"? A team from Fort Wayne Radiology won.
I liked the format this year, having the entire table compete for 50 questions. That was fun, and got everyone involved. Placing 8th out of 43 teams, I guess, is commendable.
But next year we make it to the finals.