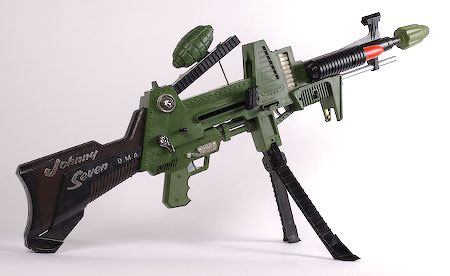 We lived in Huntington, Ind., until I was 9. We always had our own family Christmas, but the whole family would also go out to my grandparents' farm outside of Van Wert, Ohio, about 60 miles away. Most, if not all, of our aunts and uncles and cousins on my Mom's side (she had three siblings) would be there. And grandpa and grandma always gave us grandkids something neat.
One year, they got us male cousins weaponry. Serious toy weaponry. We're talking Johnny Sevens, the awesomest toy gun in the history of toy guns.
I mean, just look at that picture. Is that cool, or what?
Only three of us–me, Mike, and Brad, the oldest male cousins–received Johnny Sevens. Because it took a man to carry these things (yes, we were still under 10 years old). The Johnny Sevens had seven different weapons. One was just a machine-gun rat-a-tat-a-tat. But the others all involved shooting projectiles. They didn't fire these projectiles very hard–more like lobbing them. You couldn't really hurt anyone with them. But the Johnny Seven was still an incredible piece of plastic technology.
The next tier of male cousins were Stu (my brother) and Trent (Brad's brother). They also received weaponry, something called a Monkey Gun (for reasons unknown to me). The Monkey Gun only did one thing–fire a yellow projectile. But it fired those things HARD. And if they hit you, they HURT.
We, of course, had pitched battles in Grandpa and Grandma's big utility room in the back of the house. We older cousins would fire our Johnny Sevens at Stu and Trent, sending a missile in a leisurely lob. But coming back at us would be this yellow missile just screaming along, and when it connected, jeesh did it sting! The pipsqueaks definitely had the upper hand.
But still–we wouldn't have traded our Johnny Sevens for anything. They were the coolest present ever from the coolest grandparents ever (at least until my own parents became grandparents).