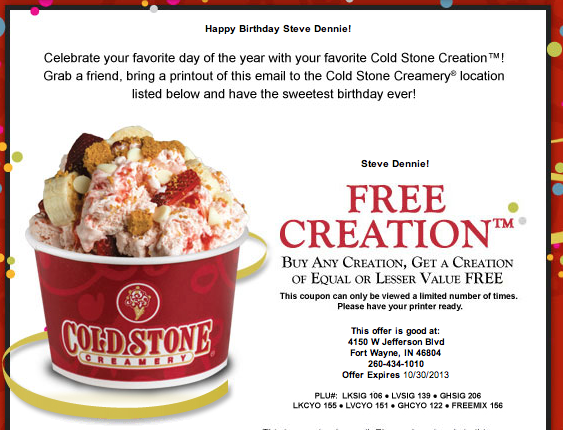 As part of the parasitic 47%, I signed up for the Birthday Club at various restaurant websites. My birthday is next week. I currently have received, by email, certificates for:
Free medium concrete mixer at Culver's.
Free bowl at Flattop Grill. (Must buy a 2nd.)
Free dessert at Biaggi's.
Free dessert at Smokey Bones.
Free "Creation" at Cold Stone Creamery. (Must buy a 2nd.)
Free meal at Wings Etc.
Free burger at Red Robin.
Most expire on October 30, which doesn't give me much time. If I truly wanted to take advantage of the system, I would give each restaurant a different birthday, to scatter them throughout the year. But that's just one more thing for which I would have to answer in heaven, and my list is long enough.