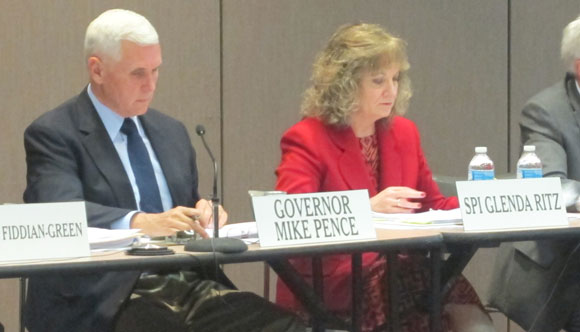 Indiana schoolteachers are hopping mad at Gov. Mike Pence. Every day, my Facebook timeline is strewn with links to articles which, basically, express disgust at what Pence is doing to public education, and in particular, how he is treating Glenda Ritz, the state's elected Superintendent of Public Instruction. We're talking conservative evangelical teachers who would probably prefer voting for Republicans, but have had it up to here. (Try this article, for instance.)
I have no horse in this race–we'll homeschool our cats–but it's been interesting to follow. The policies of two successive Republican governors have thoroughly demoralized Indiana schoolteachers. In 2012, teachers mounted an impassioned campaign to get rid of Tony Bennett, the Republican superintendent (a total jerk by all accounts, and now being brought up in federal charges), and elect their own. They succeeded.
But now Glenda Ritz is the only Democrat holding statewide office, and Gov. Pence is doing everything he can to marginalize her and make her powerless. Pence already appoints members of the State Board of Education, which the Superintendent has always chaired. But now, the Republican-dominated legislature is working on a bill that would enable the board to select its own chairman–in other words, Pence's choice. Ritz, the teachers' choice, would be powerless. David Long, who is president of the state senate and represents my own district–I've voted for him every time he has run–dismissed Ritz as a mere "librarian." Okay, I won't be voting for him again.
This is just pouring gas on what already is a raging fire.
Then there's the annual ISTEP test given to kids in grades 3-8. This year, the length of the test has increased from 5 hours to 12 hours for third-graders, and more than doubled in length for every grade up through 8th. Yes, third-graders sitting for 12 hours taking a test. From what I've read, you can trace this right back to Republican policies. However, the other day Pence came out saying the test's length was unacceptable and he would have none of it, and he pretty much blamed Glenda Ritz. It's almost comical (especially since the testing starts in just a couple weeks).
The thing is, if Mike Pence runs for president–and he probably will, at least eventually–he'll get points by bragging about how he "took on the powerful teacher's union." But it sounds to me like all he's doing is demoralizing teachers and hurting the state of education. On teacher told me she was so upset, she would never again vote for a Republican governor.
Like I said, I have no stake in this. But it's interesting to watch. No doubt my timeline today will contain many additional articles linked by totally disgusted educators.