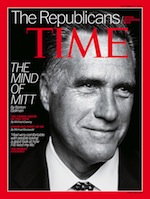 I recommend the cover article about Mitt Romney in the Sept 3 issue of Time magazine. I'm quite impressed by the business skills needed to run Bain Capital, and feel those skills would definitely be valuable in the White House. I've read a lot of this stuff before (in other "liberal" publications, so they obviously can't be trusted), but hadn't seen it put together quite so convincingly as in this issue of Time.
I was also fascinated that Romney, for ethical reasons, would not get involved with companies that dealt with tobacco, gambling…and guns. I applaude that. Attractive deals came along involving Colt and Winchester, but he wouldn't have anything to do with gun companies.
Of course, Romney regularly entered into deals knowing full well he would be putting hundreds of people out of work, while personally reaping millions of dollars. But that's just capitalism and has nothing to do with ethics…I guess.