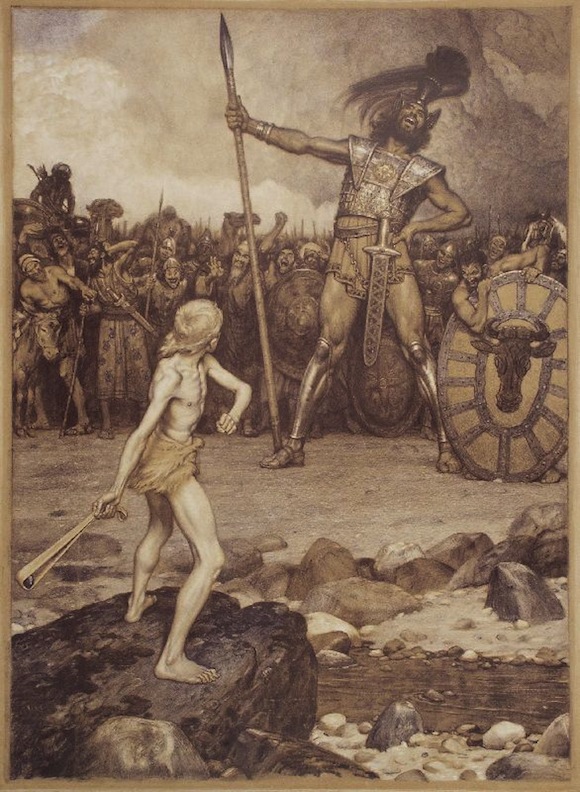 In Sunday school, I was lied to about David. All in the interest of creating a more interesting narrative.
I grew up viewing David as just a young boy tending his sheep when his father said, "Hey, I'd like you to take some food to your older brothers, who are preparing for battle." So this little boy heads off to the front, where Goliath the giant Philistine is daily challenging the Israeli troops. And we know the rest from the song we learned in Sunday school:
Only a boy named David,
Only a little sling,
Only a boy named David,
But he could pray and sing.
Only a boy named David
Only a rippling brook
Only a boy named David
But five little stones he took.

And one little stone went in the sling
And the sling went round and round
And one little stone went in the sling
And the sling went round and round
And round and round
And round and round
And round and round and round
And one little stone went up in the air,
And the giant came tumbling down.
That's the story I was taught. But Scripture tells a different story.
BEFORE the whole Goliath episode, David was already serving in Saul's court. When Saul was searching for someone to play the harp for him, one of his servants mentioned David. "He is a brave man and a warrior. He speaks well and is a fine-looking man. And the Lord is with him" (1 Samual 16:19). The encounter with Goliath happened in the NEXT chapter.
David wasn't a little boy. He was a man. And he'd been in battle–a proven warrior. He had fought in battle, and he had no doubt killed people.
[Those of you who are more biblically astute--please correct me on any of the information that follows. This is just how I put things together, as an amateur theologian. I truly want to understand what happened.]
David began playing the harp for Saul, and Saul liked the guy. He even became an armor-bearer for Saul (probably one of several), which means he faught alongside Saul in battle (vs. 16:21).
David wasn't just a shepherd. According to 1 Samuel 16:15, he went back and forth between the royal court and tending sheep. The harp-playing for Saul was just a part-time gig. He happened to be home, doing his shepherd thing, when the whole Goliath episode arose.
When David arrived to find Goliath taunting the Israeli forces, he was upset to find nobody rising to the challenge. So he decided to resolve the impasse by volunteering to take on Goliath. Saul does object, "You are only a boy, and he has been a fighting man from his youth." But David tells how he did very un-boylike things–like killing a lion and a bear, in one case grabbing the animal by its hair and killing it.
Then there's the whole armor thing. I was taught that Saul loaded David down with his armor, and it was too much for a little boy to carry on his small frame. So David takes it off and heads out to battle without armor. That's the popular narrative. But according to 1 Samuel 17:29, it was simply a matter that "he was not used to" Saul's helmet and armor. He had worn other armor in battle, but Saul's stuff felt strange, and he preferred to go without. Besides, Saul was a big guy, and maybe David wasn't–a great warrior, but more Tom Cruise than Arnold Schwarzenegger.
And David didn't go out to battle with just his sling, as we were all taught. Verse 39 says he fastened on "his sword" (his own personal sword, not somebody else's?), and verse 40 said he also took along his staff. So the picture Scripture paints of David heading out to Goliath is a veteren soldier with a sword fastened to his tunic, carrying a staff in one hand and a sling in the other, with five carefully-chosen stones in a pouch. A warrior ready for battle, with several fighting options covered.
The forces of Israel weren't turning their fate over to a little pipsqueak boy. David was an established brave warrior who fought alongside the king. I suppose the Israeli troops figured, "David has as good a chance of slaying Goliath as anybody."
That's the truth of the situation. He was a man who knew battle, not an inexperienced boy. And when the giant came tumbling down, a lot of people may not have been totally surprised. Giants had been killed by Israelites before, and this wouldn't be the last time.
But the truth of Scripture isn't what we necessarily teach in Sunday school. We want stories that teach faith and courage, and though the biblical account is, indeed, a story of faith and courage, it's not epic enough, apparently. And so, we turn the story of David into something it's not.
My contention is that the TRUTH of Scripture is enough; it's incredible on its own. We don't need to embellish. And we don't need to mislead little kids who, unlike me, may grow up to resent being taught stuff that isn't true.