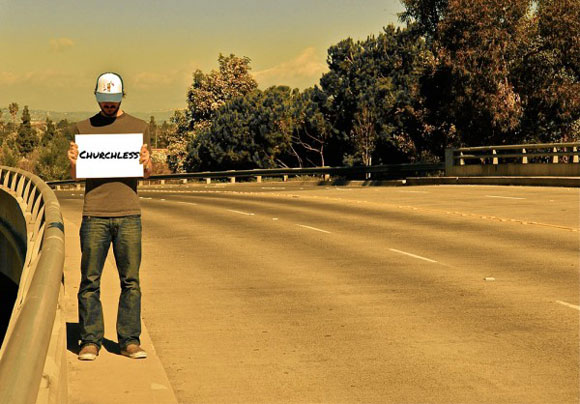 1 in 5 Americans (20%) now identify themselves as "religiously unaffiliated," according to a new Pew Forum study. This category includes people who describe themselves as atheist, agnostic, or "nothing in particular." It was just 15% five years ago (and 7% 40 years ago).
These unaffiliated people are being called the "Nones." As in, "None of the above."
Other findings:
For people age 18-22, 30% are religiously unaffiliated.
63% of the religiously unaffiliated are left-leaning, tending to support Democratic candidates.
The religiously unaffiliated are better educated than the general population.
They are very liberal (75%) in favoring abortion and same-sex marriage.
They don't, as some assume, become more religious with age. If you're nonreligious while young, you'll likely stay that way.
I don't like how the study grouped atheists and agnostics with persons who simply don't claim a particular religion. Many of the latter are still spiritual. In fact, the study showed that two-thirds of the religiously unaffiliated say they believe in God, and 20% say they pray every day. So they haven't abandoned God–just the church.
Less than one-third of the religiously unaffiliated are atheist or agnostic. They should be in a whole different category, IMHO, as persons who have rejected any involvement with God. But who am I to argue with professional pollsters?
Ed Stetzer says it's a matter of nominal (in name only) Christians shifting to unaffiliated. Society no longer values having a Christian identity. He also points out that we may be on a slippery slope of sorts, where identifying yourself as a Christian, once (and probably still) a source of "societal advancement," could become a source of "societal rejection." That would be seismic.
He also notes that "seeker" churches won't appeal to persons who have no religious background. "You can't bring the Nones back to church–they simply don't find it appealing." He says that to reach the Nones, Christians must live consistent, exemplary lives among them. Simply inviting them to church won't work. Well, we should be living such lives regardless.
Why are so many becoming nonaffiliated? One theory is that young adults became disenchanted with religion because it turned them off when evangelicals and Catholics became active in conservative politics. I don't buy that. I'm sure it's a factor with some people, but it's not responsible for the whole trend.
I'm more inclined to view it as a product of the continued secularization of society. We've been on a continuum, for many decades, from being a predominantly Christianized culture to being a nonChristianized culture. We've been heading toward the European model. Lots of factors are involved. This study just shows that we are disturbingly far along that continuum.