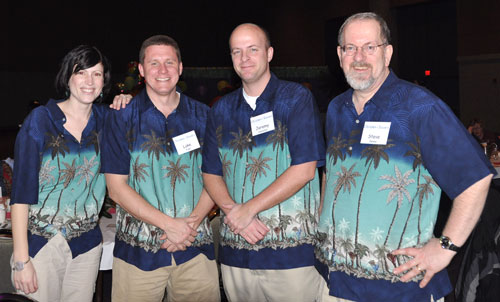 L-r: Stephanie, Luke, Jeremy, and me.
The group of teams competing just before us. (Click to enlarge)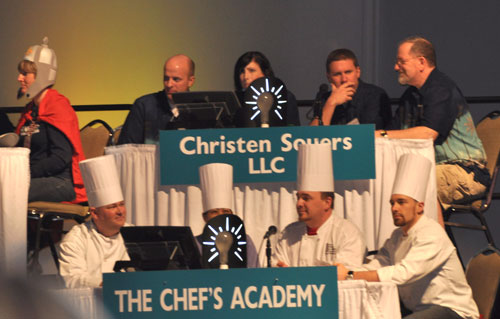 There we are, ready to flaunt our trivia knowledge in front of 500 people.
Tonight I participated in The Brain Game, a big fundraiser for the Fort Wayne Center for Learning. It's a trivia contest. Companies and organizations and anyone else who wants to can sponsor (for a cost) a team in The Brain Game. Pam's CPA firm, Christen-Souers LLC, entered a team this year. Jeremy and Luke, two of the four partners, along with one of their employees, Stephanie, agreed to be on the team. When they couldn't think of a fourth, Pam suggested me. And so, this guy who is the total pits with numbers spent the evening representing a CPA firm.
There were over 40 teams. They divided them into groups of about 7, and the winner of each group made it into the finals. Our group went fourth (which means we got to hit the buffet before heading into battle). We were not expecting to do very good, and we started out in line with that expectation.
Our grouping was called the "Bora Bora Brainiacs." The other teams were from C. Henry Discount Steel, Fort Wayne Metals, Lifeline Youth & Family Services, OmniSource, the Chef's Academy, and radio station WMEE. Each team member held an electronic device on which you could punch in your answer–A, B, C, or D. There were ten questions, all multiple choice, and a team could gain a maximum of 4 points per question. We had ten seconds to record our answers, and could talk amongst ourselves. After each question, they showed the team standings on a screen.
After the first two questions, we still hadn't scored. The name "Christen Souers LLC" was nowhere to be found. But we got on a roll, and suddenly, we were in second place. The question that jumped us ahead was one I knew: "Where was Microsoft founded?" Most teams picked Washington or Massachusetts, but I knew it was Albuquerque, NM. We knew what TARP stood for. We knew that Norway had won more gold medals in Winter Olympics (over the years) than any other country. And suddenly, we were in first place, and remained there through the last four questions or so.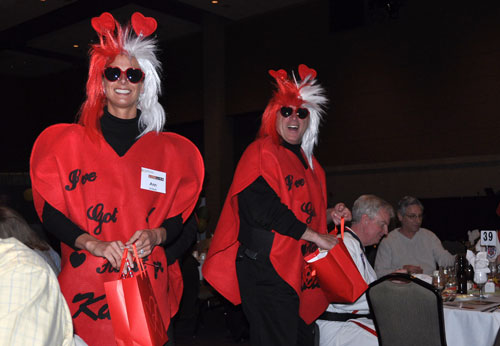 Two of the team members from Lifeline, who beat us. They had wonderful outfits, and went around the convention hall campaigning to get votes as the Best Dressed.
Going into the last question, we led by three points. The most points you could get on a question was 4. We knew that if we cast a vote on each answer on the last question, the worst that could happen is that we would be tied for the lead. The 10th question asked what Space Shuttle astronauts lost during a spacewalk in a year I can't remember. The answer was "tools," or a tool bag, or something like that, but the other answers sounded convincing, too. We cast one vote for each answer. Unfortunately, our closest competitor, Lifeline, gave all four answers on "tools," and they caught us.
Overtime! The other five teams were dismissed, leaving just us and Lifeline.
Question 11: still tied. Question 12: still tied. Then question 13: "What was the first face to appear on metal school lunchboxes?" Or something like that. The options: The Lone Ranger, Gene Autry, Hopalong Cassidy, and I can't remember the fourth. We put all four votes on "The Lone Ranger." The other team put all four votes on "Hopalong Cassidy." Drum role. Pregnant tension.
It was Hopalong.
We had expected to get trounced. But now, having come so close, we felt really really disappointed. But hey, that's how it goes. Life is filled with disappointments. But we could at least hold our heads a bit high.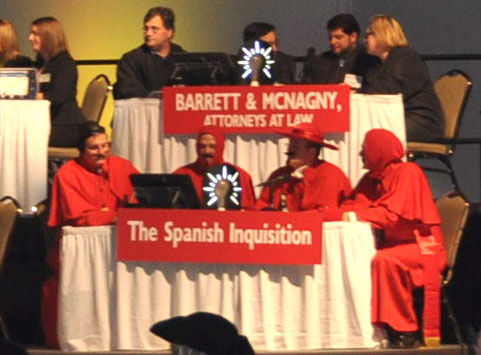 The Spanish Inquisition guys would have had my vote for best costume…if I had voted.
The teams all came wearing costumes of some kind. There was a beach theme to the night, so we made it simple: matching Hawaiian shirts, khaki shorts, and sneakers or sandals. We had the most basic outfit of any team. There were some very, very elaborate and clever costumes. You could vote on your favorite, and that team automatically made it into the finals. I didn't vote, but my vote would have gone to The Spanish Inquisition, four guys who represented…well, I have no idea what they represented. I think they were just four guys who pitched in the money to field a team. They wore long, full red robes. But they didn't need my vote, because they won their "heat" and made it into the finals that way. I think they ultimately placed third.
The final round was a mini program in itself, with dancing acts, jump-roping, a girl ventriloquist, a high school choir, and other things interjected between questions. For a while, I thought the team from Shawnee Construction & Engineering, wearing hardhats, would win. Imagine that–construction workers winning a trivia contest (though they were probably from the engineering wing). But a team called "Parents and Teachers" ultimately won.
Altogether, it was a very fun night. Definitely the most interesting fundraiser I've ever attended.