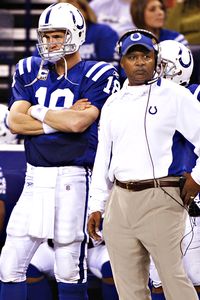 I went to bed last night disgusted with the Colts. I woke up disgusted. And I'm still disgusted. Disgusted that they sacrificed being a potential history-making team, settling instead for being a team of good-enough.
Coach Jim Caldwell said perfection was never their goal. Well, mission accomplished. Quitter.
The Colts have their eye on becoming the 44th team to win the Super Bowl. Big whup. Winning the Super Bowl is the epitome of the season, but not necessarily something historic. Instead of being 1 of 44, the Colts could have been:
The 3rd team to end the regular season undefeated.
The 2nd team to go undefeated and win the Super Bowl.
The only team to finish with a 19-0 record.
Instead, they settled for being 1 of 44. Nothing special.
Said center Jeff Saturday, when the Indy fans booed: "I don't blame them a bit, man. I probably would have booed, too. I don't blame them. They pay to come see us win games, and we didn't get it done."
Former NFL great Chris Carter pointed out on ESPN that momentum is tough to recapture. The Saints had momentum, but lost it to the Cowboys. The very next week they lost again to Tampa Bay, of all teams.
The Colts commanded amazing momentum, but voluntarily gave it up. Decided it wasn't important. The Colts will probably phone it in this week against the Bills, then have a bye week. I wouldn't be at all surprised if they lose in the first round of the playoffs. The momentum is gone. The extra sense of purpose–of being one of the all-time great teams, a team of destiny–was thrown aside frivolously.
The Patriots went undefeated in 2007 until the Super Bowl. But people will talk about them a long time, as one of only two teams–with the Dolphins–to go undefeated in the regular season. Yes, they lost the final game. But they are still 1 of 2, not 1 of 44. They made history, and they never checked their swing. I hate them, but admire that they went for it.
Patriots linebacker Tedy Bruschi wrote on ESPN:
There aren't many times in your life when you have a chance to do something that has never been done before. When you are faced with a challenge like that, my feeling is that you embrace it and see if you've got what it takes to conquer it.

That's the way we felt in New England. And yes, we lost the Super Bowl, but let me be clear: We lost the Super Bowl because the New York Giants played better than we did that day. It was not because we were tired and needed more rest….

I always thought the off-season was the time for rest….

Here's the reality: Some teams don't just play for championships, they play to be the best there has ever been. Others are just satisfied with doing what's required. The Colts decided that resting is more important than making a run at history. They are telling us that what they have done up to this point in the season is good enough. They are satisfied with home-field advantage throughout the playoffs. 19-0? No big deal. History? Didn't want it.

Should the Indianapolis Colts go on to win the Super Bowl, do you celebrate them or wonder: What if they did want it?
Even if the Colts win the Super Bowl, there will be a damper on the season. They could have been one of the all-time great teams. Instead, they settled for being 1 of 44. Way to be. Enjoy your average, nothing special Super Bowl ring.
I also realize that if a starter or two got injured for the rest of the season in what was a non-essential game, I might be writing something different. And yet, I could admire that.