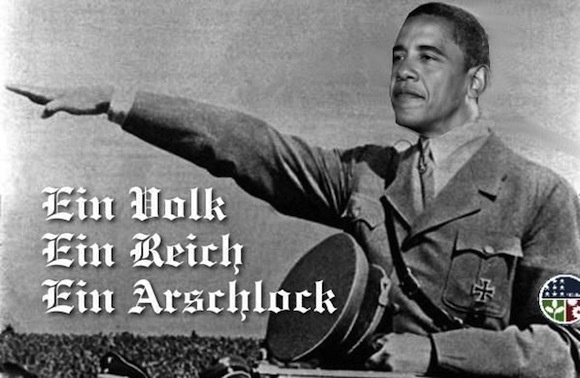 It's a given that pretty much anything the Obama administration does, and every word spoken, will get picked apart by FoxNews. Sometimes the reasoning is laughable. For instance, the mayor of Charlotte, who will soon become Obama's Secretary of Transportation, issued city proclamations recognizing May 2 as both the National Day of Prayer and, for non-religious folks, as the Day of Reason.
Finding correlations to Nazis is a well-cultivated specialty of FoxNews, and Penny Nance of Concerned Women for America was more than happy to oblige. "You know the Age of Enlightenment and Reason gave way to moral relativism. And moral relativism is what led us all the way down the dark path to the Holocaust."
There you go–breaking news from Fox & Friends that the Obama Administration is, indeed, the Fourth Reich. When you think about it, setting aside one day as the Day of Reason is every bit as outrageous as the Holocaust. We should all be outraged.
Amanda Marcotte of Slate.com noted that without reading and writing, there would have been no Mein Kampf. And if Obama goes to an art gallery, he is honoring Hitler's hobby of painting. I would add that we should outlaw science, since science produced the poison gas that Nazis used to kill Jews. And anyone who, like Hitler, has a mustache or is heterosexual or dates a blonde should also be suspected of being a Hitler lover. You can't be too careful.