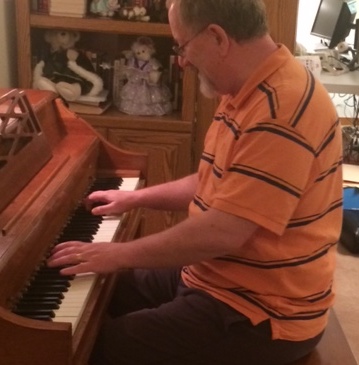 This piano, my favorite piano in the world, has really been around. My parents got it in 1965 when I was in third grade, living in Huntington, Ind. I began taking piano lessons on this piano from Mabel Meadows, wife of former bishop Clyde W. Meadows.
The piano moved with us to Pennsylvania in 1966, then was packed at the front of our little U-Haul when we moved to Arizona's Mojave Desert in 1969. It sat in the back of a pickup truck on the beach there in Lake Havasu City for youth outings, and went with us to church retreats high in the mountains by Kingman.
This piano then moved with us to Pixley, Calif., and mostly left my life in 1975 when I went back to Indiana for college. Meanwhile, the piano returned to the arid desert when my parents accepted a pastorate in Fountain Hills, Ariz. Then, when they took a church in the South Bend area in 1989, the piano was with them…and very close to me, again. It spent some time with my brother Stu's family. Then, finally, maybe 10 years ago, it arrived at our house.
This piano, at which I learned to play, has survived thousands of miles and extremes of weather. It has given me numerous hours of both frustration and joy. I still love the touch, such a familiar key action. And today, we got it tuned by Larry Merriman. It sounds great.