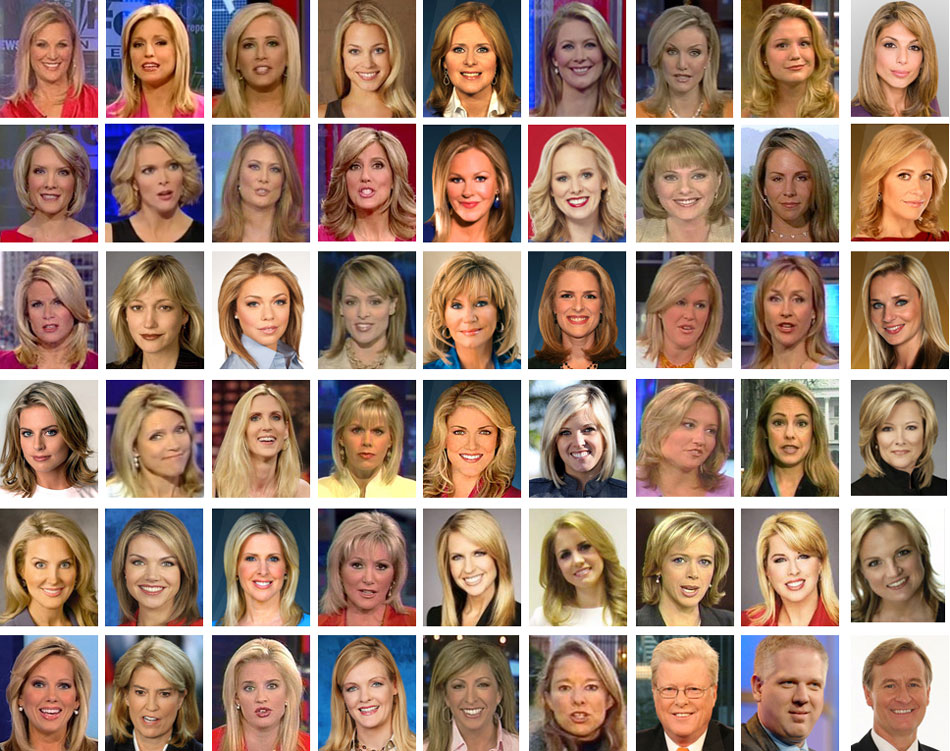 Roger Ailes, head of FoxNews, has a real thing for blondes.
He has three basic requirements for female correspondents and anchors:
You're blonde.
You're white.
You look good wearing a very short skirt and sitting on an open couch, chair, or stool. (Because Roger's certainly not going to put you behind a tasteful desk.)
Imagine two women sitting outside Roger Ailes' office, waiting to be interviewed for a job at FoxNews. One is a blonde in a short skirt. The other is a brunette wearing…well, it doesn't matter what she's wearing. You know who's getting the job.
Yes, you'll occasionally see a Hispanic, and there's Michelle Malkin to represent Asians. Roger Ailes lets them keep their dark hair. But with few exceptions, if you're a white woman and your name is not Sarah Palin, he requires that you be blonde, or at least heavily highlighted.
I have trouble telling the FoxNews women apart. They all tend to look like Megyn Kelly.
Roger's predilections apparently don't bother conservative women viewers. Hey, he's a powerful guy and a champion of conservative values, so he can hire whoever he wants. And the correspondents themselves don't mind being objectified. Though I imagine it gets uncomfortable sometimes sitting rigidly on that couch, knowing you don't dare move your legs until the next commercial break.
In the photo (click to enlarge): Some of the blondes over the years at FoxNews and Fox Business Channel. Row 1 (top row): Juliet Huddy, Ainsley Earhardt, Jamie Colby, Jill Dobson, Molly Hennenberg, Molly Line, Paige Hopkins, Ginger Williams, Nicole Petallides. Row 2: Dana Perino, Megyn Kelly, Molly Line, Alisyn Camerota, Lis Wiehl, Margaret Hoover. Molly Falconer, Alicia Acuna, Melissa Francis. Row 3: Martha McCallum, Jennifer Eccleston, Lauren Sivan, Jane Skinner, Sandy Rios, Janice Dean, Meredith Whitney, Brooke Alexander, Sandra Smith. Row 4: Courtney Friel, ED Hill, Ann Coulter, Gretchen Carlson, Marianne Rafferty, Elizabeth Prann, Lisa Bernhard, Claudia Cowan, Gerri Willis. Row 5: Heather Childers, Heather Nauert, Cheryl Casone, Donna Fiducia, Monica Crowley, Jenna Lee, Lind Vester, Rita Cosby, Louise Pennell. Row 6: Shannon Bream, Greta Von Sustern, Laura Dhue, Caroline Shively, Laura Ingle, Amy Kellogg, John Gibson, Glenn Beck, Steve Doocy.