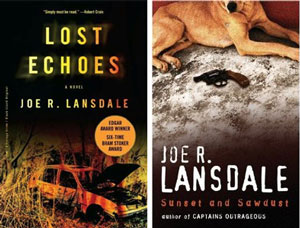 Joe Lansdale is quickly becoming one of my favorite authors. He excels at developing memorable characters, and his plots are unusual.
Both of these books are set in East Texas–"Sunset and Sawdust" in the 1930s Depression, "Lost Echoes" in the present.
"Lost Echoes" is a 2007 book in the Vintage Crime / Black Lizard imprint–the 99th Black Lizard book I've read. The protagonist, Harry Wilkes, has the ability to "see" terrible events which occurred in whatever place he's in–murders, rapes, car accidents, domestic violence. A vision takes over, and it's like he's there watching it happen.
This takes over his life. He keeps a notebook detailing places to avoid, lest he get entrapped in another vision. Alcohol is one way to keep the visions at bay.
Harry meets up with another alcoholic, a very interesting guy named Tad who's also a martial artist, and they both climb on the wagon together.
Harry's childhood crush, Kayla, enters the picture, and they set about trying to solve the murder of her father many years before. Other people come and go, and you're not sure what role they play in the story, but there's a role of some kind.
It's a good story. The ending gets a bit crazy, but I say that in a good way.
"Sunset and Sawdust," written in 2004, begins with a woman–named Sunset, because of her red hair–shooting her husband in the head while he's beating and raping her (and while a tornado is taking their house apart). He's the police constable, and when they need a new one, she ends up getting the job. Not without opposition.
This book is a companion of sorts to "The Bottoms," an astoundingly good book set in East Texas during the Depression. Both show the extreme racism of that time and place, with blacks cowering in subservience, always knowing they can get lynched for practically anything. His black characters are compelling.
Lansdale develops at an unhurried pace, introducing new characters only after you've had time to get acquainted with the previous ones. Two bodies are found, and Sunset and her makeshift police force try to unravel what happened. It gets complicated. Some people die, some live. The story resolved to my complete satisfaction.
"Sunset and Sawdust" is a better book than "Lost Echoes," but "The Bottoms" is the best of the three.