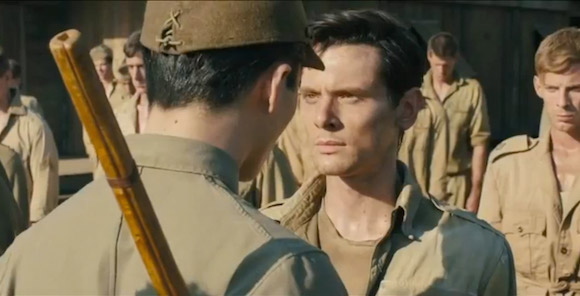 This afternoon, Pam and I saw "Unbroken." We loved it. And we were impressed, and grateful, for the great extent to which faith was woven throughout the movie. In fact, faith plays far more of a role in the movie than it does in the book, at least over the same period of time which the book covers (ending with Zamperini's return from the war).
Across the internet, Christians have been griping for weeks (even before seeing the movie) about how the movie doesn't include Zamperini's conversion at a Billy Graham crusade years after the war. They cite it as further proof of Hollywood's anti-Christian bent. I had read some of that spiritual grumbling (there's a good "b" word which would apply, IMHO). The fact is, though God's sovereignty was undoubtedly involved in getting Zamperini through the war, his survival had nothing to do with his personal faith–because there was NO personal faith. He was not a religious guy. Far from it. It was largely his own grit and toughness that got him through.
To include the Billy Graham conversion, the movie would have had to continue his life after the war–his marriage, his descent into alcoholism, his consuming hatred, the near destruction of his marriage. That would have been a whole different movie…and a very long one. Angelina Jolie, as director, had 2.5 hours to work with, and even then, she left out a lot of great stuff from the war. If you want the whole story, read the book.
The movie tells the heart of Zamperini's story–what he endured during WW2–and it ended where it needed to end. And it ended on a triumphant note. But Angelina Jolie, as director, chose to include notes about what followed in Zamperini's life, especially pertaining to his faith. I thought that was the perfect way to do it. Let's applaud her for that, not criticize her. Zamperini himself, having seen the movie before his death, said he thought the movie did a good job of not forcing religion down people's throats.
Come on, fellow Christians. We constantly moan and groan about how society is out to get us. We nurse a persecution complex even though we live in a country more dominated by Christianity than any other country on the planet. When Hollywood puts out a movie which does make serious nods to Christian faith, but we still whine, it just makes us look like idiots. Like people who can never be satisfied. And I guess, actually, that's what we are. We refuse be satisfied, and we're very reluctant to praise others for making room for our faith…as this movie does.
Nobody, after hearing our petty bellyaching, decides, "You know, I'd like to be a Christian, too."
I LOVED "Unbroken," and I thank Angelia Jolie, Universal, Legendary Pictures, and everyone else involved with bringing this story to the big screen.