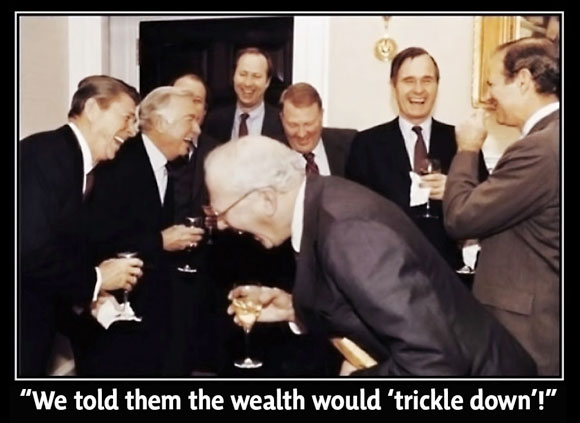 Dear Wise and Benevolent Job Creators:
I don't want to rush you into anything you're not comfortable with. But I'd like to make a simple request.
As you know, the amount of total US income going to you, the exalted top 1% of earners, increased from 9% in 1970 to 23% in 2007. You also hold over 30% of all wealth. The next highest country is Germany, where the top 1% earn just 11% of the country's total income. Not that it matters in the least, because Europe sucks.
Now, I'm not criticizing you. It's fine and dandy for the rich to get richer. That's capitalism. You earned every penny by the sweat of your brow, with no help from anybody anywhere.
However, we've been told that when the Job Creators have enough money, they'll spend it, and the economy will magically flourish and the middle class will prosper once again. Flowers will bloom, birds will sing. The rising tide will float our proletarian boats alongside your yachts, though we promise to not get too close. It will be a wonderful thing–what we've been awaiting, expectantly, for over 30 years.
This is what trickle-down economics is about, which Ronald Reagan championed back in the 1980s. And we, of course, love Ronnie. Give the wealthy more money, and it'll sprinkle back down over the peons–and we will be grateful for whatever drops we get.
But I'm wondering. We've been doing the trickle-UP thing for over 30 years, and with enormous success, through both Democratic and Republican administrations. In fact, it has accelerated under Obama; under George Bush, you nabbed a mere 65% of all US income growth; but in 2009-2010, a whopping 93% of income growth went into your pockets. So we're trying real hard to help you out, knowing we'll ultimately be helping ourselves.
While most of America stagnates, you Job Creators have grown enormously wealthy. We know, since you are not greedy or selfish persons, that it's all in preparation for the day when you transfer your money back to America, and open the floodgates to benefit the dry and thirsty populace.
I'm just wondering, dearest Job Creators, when exactly the trickle-DOWN part starts. That's what Ronnie promised us back in the 1980s, but I didn't think it would take this long. And I must say, it's getting brutal out here. You may not have noticed, but the middle class ain't doing so well. I'm not sure how much longer people can hold on while you get your act together.
Like I said, I don't want to rush you, oh cautious and merciful Job Creators. I realize you're waiting for the right time, and perhaps want to first finish remodeling your newest vacation home.
My simple request is–give us a number. Are you, perhaps, shooting to first achieve 30% of total US income? Maybe 40%? Would you like to control, say, 50% of all wealth before taking the risk of investing it for the sake of the American economy?
You, Job Creators, are our long-expected Messiah. But if you could give us a number you want to reach first, then we could plan ahead. That would be much appreciated. In the meantime, we will continue to patiently await the blessings of trickle-down promised long, long ago.