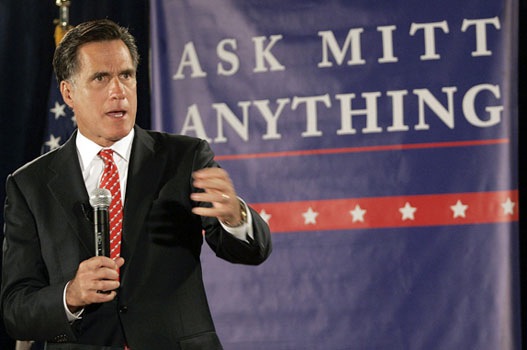 I really don't care if Mitt Romney remained involved with Bain Capital after heading off to save the 2002 Winter Olympics (which is what he did–he commendably rescued a sinking ship). If he had the capacity to deal successfully with the Olympics, while at the same time keeping his hand in a very successful company–good for him. A President needs to be able to multitask, to give quality attention to several (or many) things at the same time. So good for him.
But why is he denying that this was the case? That puzzles me.
There is so much evidence and documentation of his continued involvement at Bain after "leaving" in 1999. Steve Kornacki put it all together in a Salon article. Including:
Romney was listed on SEC documents as Bain's president, CEO, chairman, and sole shareholder for years after 1999.
In 1999, the Boston Herald reported that in taking the Olympics position, Romney would "stay on as a part-timer with Bain, providing input on investment and key personnel decisions."
In July 1999, a Bain press release identified Romney as CEO, and said he was taking a "part-time leave of absence."
In a November 2000 interview, Ann Romney said her husband remained involved with Bain.
Marc Wolpow of Bain told the Boston Globe in 2002 that he reported directly to Romney while he was in Utah directing the Olympics.
Other reports show that Romney apparently earned at least $100,000 salary as a Bain executive in 2001 and 2002, though he says now that he had left the company.
Why is Romney denying his past? Why can't he just come out and say, "Yep, I was doing both things at once. I was focused on the Olympics, but I still carried some influence at Bain and was involved in some decision-making there. What's the problem with that?"
He should be proud of his work at Bain, just as he should be proud of his work as Republican governor of a predominantly-Democrat state, and of his role in instituting universal healthcare in Massachusetts. Yet he keeps rewriting his much-documented past.
I disagreed with John McCain on key policy issues, but I always felt he was honest about his past, the good and the bad. I trusted John McCain; I just didn't vote for him. I'd like to be able to trust Mitt Romney, but he's making it very hard, and I don't know why.